Case Study: Unmanned hydrographic survey operations for higher quality data collection & increased safety
September 14, 2020 Maritime Safety News
SPONSORED CONTENT: Deep BV has upgraded a survey vessel with an SM300 autonomy system that enables unmanned and reduced-crew configurations, as well as shoreside remote-helm and payload control.
DEEP'S OBJECTIVES:
To improve the quality of data collection while reducing risk to personnel during hydrographic survey operations that will measure challenging portions of the Dutch Wadden Sea.
SM300 SOLUTIONS:
Precise routing to minimize cross-track error (XTE) and reduce overlap
Reduced-crew or unmanned configurations, with remote monitoring and command of multiple autonomous vessels from a shipboard or shore-based center
Remote control of on-board auxiliaries and sensors, and ship-to-shore data flow
System installation aboard Deep's existing vessel (no need to build new vessels)
OVERVIEW
Amsterdam-based Deep BV, a survey company specializing in hydrography, marine geophysics and oceanography, has upgraded survey vessel Loeve (8 m/26.2ft) with a Sea Machines SM300 autonomous-command and remote-helm control system. Deep is deploying the Sea Machines-enabled vessel for a mission to survey the Wadden Sea, a challenging shallow body of water with tidal flats and wetlands located north of The Netherlands. Deep operators are able to command and control the autonomous vessel and all on-board payloads (including survey sonars, hydrophones, winches, cranes and davits) from its shoreside Survey Control Room, which has been equipped to manage several surveys simultaneously. Deep is transferring all collected data from the vessel to the control room via 4G and satellite connection.
The combination of Sea Machines' technology and the Survey Control Room has enabled Deep to transition from minimally manned missions to unmanned missions.
The company selected Sea Machines as its autonomy provider because the SM300 could be installed on its existing vessel, Loeve, to enable autonomous pilot assist and unmanned operations. Perhaps most importantly, transitioning mariners from the helm to shore-based positions reduces risk to personnel.
Installation
INSTALLATION

Sea Machines systems are designed to be installed on new-builds and existing vessels. The Sea Machines SM Series of products integrates with a myriad of the most commonly used interfaces, including propulsion and steering systems, instruments and hydraulic payloads. Only requiring 10 components for installation, the SM300 will fully integrate with the vessel's on-board GPS, AIS, RADAR and ENC charts to bring autonomous, unmanned and remote-helm capabilities, as well as full situational awareness, to operators both on and off the vessel.
USE CASE: AUTONOMOUS MARINE SURVEYING
All at-sea operations bring some level of risk to timely, effective mission execution and the routine, repetitive nature of survey work opens the door for fatigue or distraction-related errors. Autonomy assists in precision navigation that yields consistent results with fewer returns to correct errors and omissions. Surveyors are freed up to maintain their focus on higher-level operations.
With the SM300, surveyors can remotely monitor and command multiple autonomous vessels from a shipboard or shore-based center located anywhere with network connectivity. This remote capability enables reduced-crew or unmanned configurations, and increases operational health and safety by mitigating high-risk activities generally associated with working aboard small survey craft in dynamic marine environments. With remote command and control, companies can leverage their technical experts across multiple simultaneous surveys.
Autonomous vessel routes are more consistent than what a human operator can execute and offer reduced XTEs, minimizing the need for overlapping routes. Sea Machines enables collaborative autonomy between two vessels, creating a force multiplier effect that covers more survey area faster.
With a Sea Machines system on board, an operator has an always-on-watch, automated "co-pilot" that can set and follow the course, autonomously make adjustments to improve the route and ride, all while avoiding hazards across all conditions and light availability. The system adds obstacle detection and collision avoidance capabilities during the survey or while in transit to the survey site.
Sea states can vary from hour to hour. To maximize crew comfort and safety on board during unpredictable weather and wave conditions, the autonomous vessel will regulate speeds and soften turns. The Sea-Keeping Mode autonomously adjust the vessels movements and speeds between waypoints when the mission and environmental conditions exceed the pitch, roll and heave thresholds defined by the operator.

The SM300 enables shoreside command and visibility with full situational awareness using cameras, sensors and other equipment, from a second location on another vessel or on shore. All payloads on board can be remotely operated from a second vessel or shoreside location.
Finally, with a reduced number of crew or no crew on board, the need for work breaks and shift changes is minimized. Coupled with the highly precise data collection that yields lower XTEs, autonomous vessels can be more productive, translating to operational cost savings and CO2 emissions reductions.
TRAINING & USE
Following installation, Deep's vessel operators were trained and were using the system within a few hours. The intuitive system, housed on a ruggedized laptop, includes an easy-to-understand interface and command options.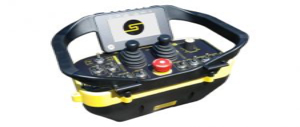 The remote-helm control beltpack (shown left) is equally simple to use, offering joystick control for throttle and thrust, and buttons for payload control.
Deep's shoreside command center is comprised of several connected large screens and a laptop, utilizing 4G connectivity.
CLOSING THOUGHTS FROM DEEP BV
About selecting Sea Machines as its autonomy provider, Deep's CCO Jurgen Beerens said: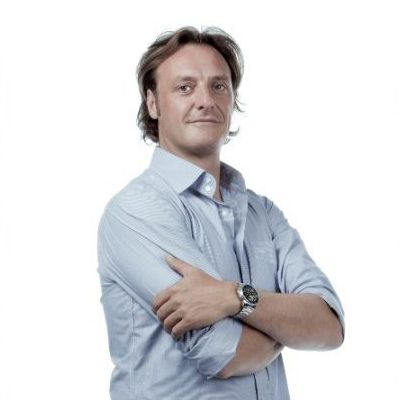 "The purpose of our Survey Control Room is to offer our clients many possibilities like ad hoc surveys, simultaneous conducted surveys operated by only one survey crew, and multi-purpose use of vessels already available in the field. Besides these unparalleled flexibility advantages, it offers a time-saving option to increase efficiency and control costs towards a more sustainable future. With Sea Machines integrated on our vessel, we will soon begin to transfer tasks from the vessel to the safe working environment of the office. As well as improving safety, we will gain flexibility, continuity and quality, and we will reduce risks and our carbon footprint."
To learn more about how Sea Machines can make your vessel operations more predictable, productive and efficient, while reducing risk, contact Sea Machines.
Source: marinelog
---