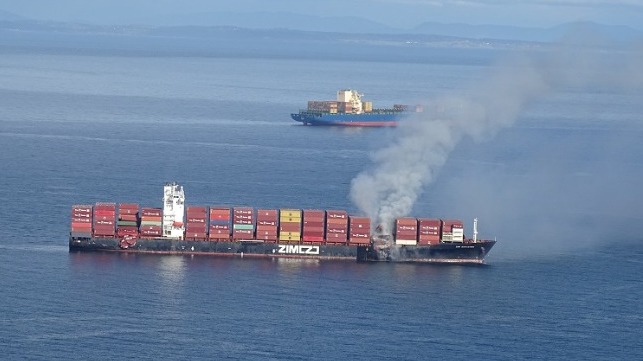 The container ship Zim Kingston lost 40 containers over the side in a storm off the Strait of Juan De Fuca on Friday, then caught fire. The Canadian Coast Guard has evacuated 16 people from the vessel, and five other crewmembers remain on board to fight the fire, the agency said.
The incident began in the early hours of Friday morning. Zim Kingston encountered heavy swells about 35 nm west of the strait's entrance, and she began rolling up to 35 degrees. 40 boxes went over the side due to the severe motion. The captain notified the U.S. Coast Guard of the cargo loss, and an Air Station Port Angeles aircrew was able to locate 35 of the containers. The aircrew deployed a datum marker buoy to monitor the movement of the debris field.
The Kingston proceeded into the Strait to an anchorage five nm off Victoria, B.C., so that the damage could be inspected. At about 1100 hours Sauturday, the crew reported that two containers on her foredeck were on fire. Video imagery captured by Reuters on Saturday showed a stack of boxes burning vigorously, with flaming material tumbling over the starboard side.
SOURCE READ THE FULL ARTICLE
https://www.maritime-executive.com/article/container-ship-catches-fire-in-strait-of-juan-de-fuca
---