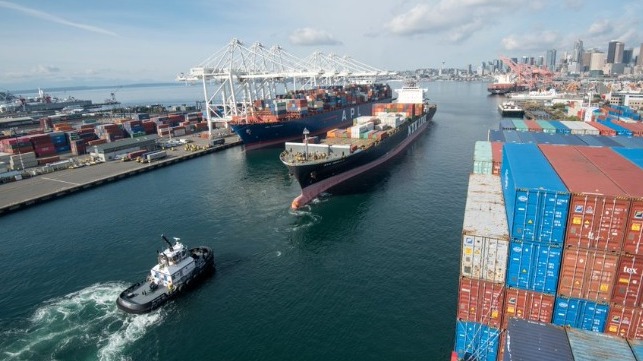 The Port of Seattle's commission has voted to speed up its carbon-cutting efforts by ten years and now aims achieve net-zero emissions from its own operations by 2040. The port has also committed to accelerating its goal for tenant and port user emissions to be carbon neutral or better by 2050.
The policy directives were timed to coincide with the Conference of Parties 26 (COP 26) meeting in Scotland. "The urgency for climate action is underscored by the UN Secretary General's recent statement that the impacts of climate change are a 'code red for humanity,'" said Port of Seattle Commission President Fred Felleman. "As a public port, these investments are not just the right thing to do, but they also give us a competitive advantage because businesses are increasingly seeking ways to reduce their emissions."
The port also highlighted its participation in new exploratory studies of renewable hydrogen as a maritime fuel source; a new partnership with Seattle City Light (SCL) and the Northwest Seaport Alliance (NWSA) to focus on waterfront electrification; and its membership in the Getting to Zero coalition.
SOURCE READ THE FULL ARTICLE
https://www.maritime-executive.com/article/port-of-seattle-speeds-up-decarbonization-plans-by-10-years
---