TMSA 3 – ELEMENT 13 MARITIME SECURITY !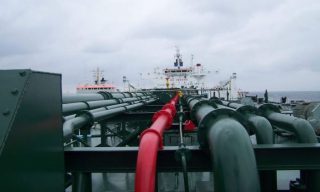 The third edition of the Tanker Management and Self Assessment – A Best Practice Guide (TMSA 3) is available from Monday 10th of April introducing, among other things A New element: Element 13 – Maritime Security.
TMSA 3 – ELEMENT 13 MARITIME SECURITY- Stages :
STAGE 1
1.1 Documented security plans are in place.
1.2 The company has documented procedures in place to identify security threats applicable to vessels trading areas and shore-based locations.
1.3 Measures have been developed to mitigate and respond to all identified threats to vessels and shore-based locations.
1.4 Procedures are in place to obtain, manage and review current security related information.
1.5 Procedures include the reporting of potential security threats and actual security incidents.
STAGE 2
2.1 Formal risk assessments of company activities are undertaken to identify and mitigate potential security threats.
2.2 The personnel responsible for security receive training appropriate to their role and the company's activities.
2.3 Policy and procedures include cyber security and provide appropriate guidance and mitigation measures.
2.4 The company actively promotes cyber security awareness.
Effective means are used to encourage responsible behaviour by shore-based personnel, vessel personnel and third parties.
Such behaviour may include:
• Locking of unattended work stations.
• Safeguarding of passwords.
• No use of unauthorised software.
• Responsible use of social media.
• Control/prevention of misuse of portable storage and memory sticks.
STAGE 3
3.1 A travel policy is in place to minimise security threats to personnel.
The policy is based on risk assessment and includes vessel personnel, shore-based personnel and contractors travelling on company business.
3.2 Security procedures are updated taking into account current guidance.
3.3 The security policy and related procedures are included in the internal audit programme.
The audit assesses compliance with all aspects of company security procedures, including personal awareness and behaviour.
STAGE 4
4.1 Assessments are undertaken of the company's security measures and preparedness.
The assessments may be conducted by in-house personnel or by external resources.
4.2 Independent specialist support is used to mitigate identified security threats.
Any contracts for specialist support both onboard and ashore, are supported by a comprehensive scope of work.
4.3 Vessels are provided with enhanced security and monitoring equipment.
4.4 Security enhancements are considered for inclusion in refit specifications and new-build design.
4.5 The company is involved in the testing and implementation of innovative security technology and systems.
This may include:
• Physical measures to improve security.
• Software enhancements to IT systems.
SHIP IP LTD can assist you to complete Element 13 – please ask our Team for more details ! 
---