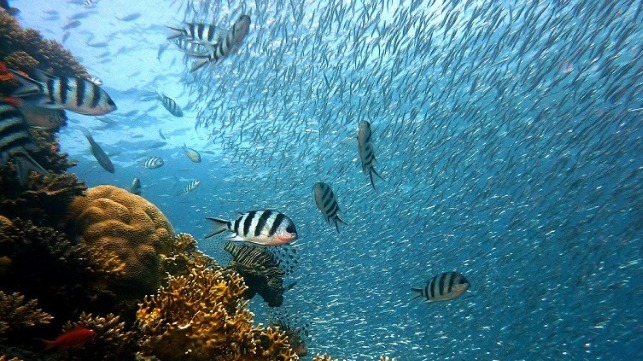 [By Fermin Koop and Regina Lam]
World leaders, civil society and media will gather in Glasgow, Scotland from 31 October to 12 November for the United Nations climate change conference (COP26), originally scheduled for 2020 but delayed because of the pandemic.
The UK government hopes the conference will see countries put forward more ambitious emission reduction targets for 2030, and commit to an overall goal of reaching net zero by 2050. This would keep alive the possibility of countries holding global average temperature rise to no more than 1.5–2C above pre-industrial levels, as they committed to in the 2015 Paris Agreement.
The UK is asking countries to prioritize phasing out coal, hastening the arrival of electric vehicles, mobilizing international climate finance and ending deforestation.
The last conference, COP25, held in Madrid in 2019, was promoted as the "Blue COP" because it aimed to set a precedent by bridging ocean issues and UN climate change negotiations.
With days to go before COP26 opens, it isn't fully clear how much weight ocean issues will carry within the current agenda, but marine experts have high hopes they will be prominent.
How will the ocean feature at COP26?
Marine issues will likely figure in the COP's formal discussions as well as in side events, which could lead to a political declaration on the ocean–climate issue at the end of the summit. Countries will also introduce updated climate pledges at COP, known as NDCs (nationally determined contributions), which are expected to include specific ocean targets.
Lisa Schindler Murray, senior manager of policy and partnerships at Rare, a US-based conservation organisation, said momentum around ocean–climate action will continue to grow at COP26, with countries integrating ocean and coastal ecosystems into their mitigation and adaptation targets. She also expects a greater recognition of the role of local communities in ocean–climate action.
Because the Ocean, an initiative comprising 39 developed and developing countries that aims to bring the ocean into climate change policy, will launch a new declaration on the first day of the conference to highlight the ocean–climate nexus. As well as demanding revised NDCs with ocean targets, they are calling for a holistic approach that addresses the climate and biodiversity crises as one through COP26 and COP15 – the biodiversity conference that began in Kunming this month and will conclude in a second session next spring.
SOURCE READ THE FULL ARTICLE
https://www.maritime-executive.com/editorials/will-world-leaders-consider-the-ocean-s-climate-role-at-cop26
---