Not since the ghost ships of maritime legend has a single floating vessel caused more collective dread. To the horror of many Sydneysiders, the cruise ship Coral Princess docked in Circular Quay this week with more than 100 COVID-19 positive cases on board.
According to news reports, most of the infected were crew members, with 114 in isolation on the ship. However, four passengers were also isolating after positive COVID results.
But how has the ongoing threat of COVID-19 impacted travel insurance offerings? Do insurers cover travellers impacted by outbreaks like the one being suffered aboard the Coral Princess?
According to recent research from Southern Cross Travel Insurance (SCTI) – which operates in New Zealand and Australia – 80% of Australian travellers now consider travel insurance a high priority for international travel and even 65% of Australian travellers now consider domestic travel insurance a high priority.
"With that in mind," said Auckland-based SCTI CEO Jo McCauley (pictured above), "I'd hope that most affected passengers would have some level of travel insurance in place."
SCTI's domestic policy doesn't cover cruises but their international comprehensive policy, TravelCare, does offer cruise cover. McCauley said this international travel policy also covers a cruise hit by a COVID-19 outbreak so long as the cruise is heading to a destination that has an Australian government Smartraveller travel advisory of Level 2 or below.
According to the Department of Foreign Affairs and Trade, Level 1 indicates travellers should exercise normal safety precautions, Level 2 recommends a high degree of caution.
Read next: Cover Genius finds 50% of Australian travellers not covered for COVID-19
"Some insurers though, may not cover cruises as standard and others may ask you to pay an additional premium to include cruise cover on your policy," said McCauley. "So it's important for travellers to make sure they fully understand the benefits available to them before buying travel insurance and the circumstances in which they can realistically make a claim."
She said there are "many exclusions and significant differences in COVID cover between different insurers."
The SCTI CEO said nearly three years of the COVID-19 pandemic had caused them to significantly rethink their travel insurance offerings.
"It was something we didn't provide cover for initially," said McCauley. "However, as travel restrictions began to ease, we knew Australians wanted cover for COVID-19 related cancellations."
As a result, SCTI spent "considerable time assessing different options and trying to find the right balance between price and cover to deliver the level of COVID-19 cover we have available now," she said.
McCauley said the pandemic also put the spotlight on the fact that many Australians are not clear on what their travel insurance policy covers them for.
"Our aim is to provide simplicity,'' she said.
"We know nobody likes reading the small print but when it comes to looking at COVID-19 cover we strongly encourage Australians to carefully read their policy to really understand the benefits available to them and the circumstances in which they could practically make a claim," added McCauley.
Despite the ongoing risks of COVID, other SCTI research suggests the appetite for travel is very strong in Australia. The Future of Travel found that more than 90% of Australians are planning to travel within Australia or overseas during the next two years.
However, 75% of these future travellers said they are now more concerned about health and safety when travelling than before the pandemic.
"The pandemic hasn't reduced our desire for travel but is shaping the decisions we make about it including destination considerations, accommodation choices, holiday activities and attitudes towards risk and travel insurance," said McCauley.
"It has made us more aware now, than ever, of the things that could potentially go wrong during our travels and the importance in planning for these unforeseen circumstances as much as we can," she added.
SCTI's comprehensive travel insurance offering, said McCauley, includes unlimited medical expenses if the insured is diagnosed with COVID-19 while on the journey, and $2,500 up to unlimited to change travel arrangements if the insured or a "relevant person" is diagnosed with COVID-19 before you leave. To be eligible for cover, people must be fully vaccinated.
"The majority of Southern Cross Travel Insurance's COVID-19 claims have been for cancellation due to being diagnosed while on their trip, or before they were due to leave," she said.
However, she added, other insurers may only offer cover for cancellation if you're hospitalised with COVID or may not offer cancellation cover.
She also said that travel insurance with SCTI doesn't kick in if Australia experiences a general COVID lockdown or state order while travelling, or if an overseas country closes its borders and this impacts travel plans/cancellations. There are also other exclusions.
"Therefore, when booking accommodation, activities and other travel-related expenses, we would always recommend choosing options that provide flexible or penalty free cancellation or rebooking options to avoid being left out of pocket," said McCauley.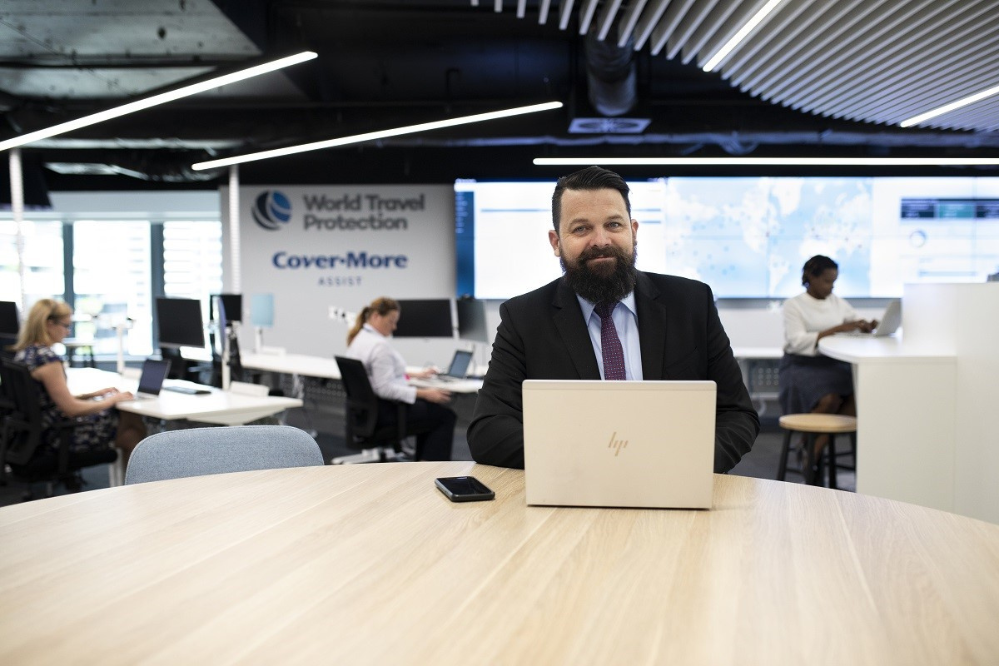 Brisbane based Rodger Cook (pictured directly above), general manager of Global Security Services for World Travel Protection said that the pandemic has caused the travel industry generally, including the cruise sector, to adapt to COVID risks.
Cook's firm recommends a risk-based approach to travel of all kinds.
"We help educate travellers on the risks incurred based on three main factors: the traveller's personal risk profile, the locations they're traveling to, and the activities being conducted. We recommend this framework for risk mitigation during any travel – both leisure or business," he said.
Read next: COVID-19 aware travel tips for the insurance professional
Cook also stressed the importance of up-to-date and accurate information about any potential medical and security disruptors that could impact a trip.
The Australian government further eased COVID-19 border restrictions this month. Cruise ship and airline passengers no longer have to fill out a Digital Passenger Declaration or Maritime Travel Declaration when entering Australia, prove their vaccination status or seek exemptions to enter the country.
Source: https://www.insurancebusinessmag.com/au/news/breaking-news/covid19-and-the-ongoing-travel-risks-of-cruise-ships-413223.aspx
---