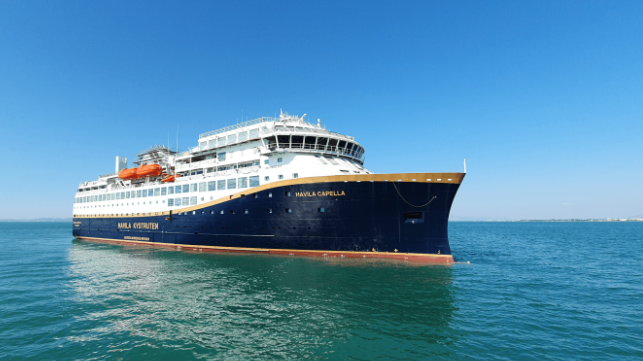 After several delays, Havila Voyages has taken delivery on the first of its hybrid vessels which will be used to start a new service along the Norwegian coast next month. The new service is part of the Norwegian government's efforts to encourage competition on the route which had been maintained for over 125 years by Hurtigruten.
Delivery of the Havila Capella was completed yesterday at Tersan Shipyards' facility in Yalova, Turkey. The vessel is currently preparing for its voyage to Bergen, Norway where it will undergo final preparation before entering service. The ship will start sailing on the traditional coastal route from Bergen to Kirkenes on December 1.
Havlia won a contract early in 2018 from the Norwegian government for the service. For the first time, the Norwegian government decided to split the service between two competing companies. The plan called for Havlia to initiate its service in January 2021 in competition with Hurtigruten. Havlia, however, encountered numerous delays starting with a failed agreement with Spain's Barreras Shipyard that resulted in the cancelation of the first construction contract. A new contract was awarded in September 2018 to Tersan calling for the delivery of two vessels late in 2020. The contract was later expanded with two additional sister ships due for delivery in late 2021.
SOURCE READ THE FULL ARTICLE
https://www.maritime-executive.com/article/havlia-takes-delivery-on-its-first-norwegian-coastal-vessel
---