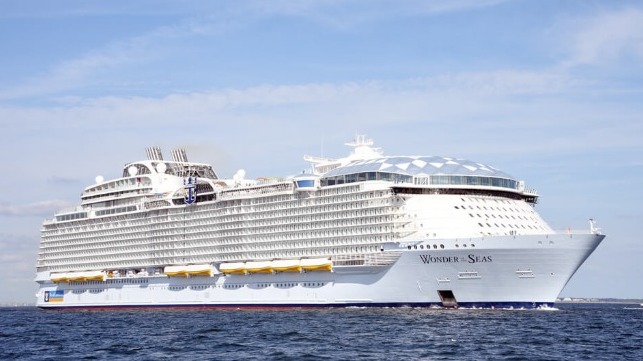 The world's largest cruise ship was quietly delivered to its owners last week and is scheduled to depart the shipyard tomorrow, November 5. Unlike the past where the events were met with great fanfare, the new cruise ship, Royal Caribbean International's Wonder of the Seas will wait four months for its maiden voyage as the cruise industry continues to ramp up after the long pause in operations.
At 236,857 gross tons, the new cruise ship is nearly five percent larger than the first Oasis class cruise ship that Royal Caribbean introduced more than a decade ago and even slightly larger than the fourth ship of the class that was introduced three years ago. The Wonder of the Seas, which is 1,188 feet in length, also has an increased passenger capacity with a maximum of 6,988 passengers in addition to 2,300 crew.
Like all modern cruise ships, the new ship will have a broad range of amenities for its passengers. As with the prior ships of the class, she will have different zones for entertainment, accommodations, and dining with features including a water slide, outdoor theater, and a zip line. New to the Wonder of the Seas is a cantilevered pool bar as well as a special zone for suite passengers complete with a lounge, restaurant, and private outdoor deck space
Construction for the Wonder of the Seas began at the Chantiers de l'Atlantique shipyard with the first steel in April 2019 and the first block was placed in the drydock in October 2019. The delivery of the ship however was delayed while the shipyard was closed in 2020 due to the pandemic. The floating out was completed in September 2020 and the sea trials were in August 2021.
SOURCE READ THE FULL ARTICLE
https://www.maritime-executive.com/article/world-s-largest-cruise-ship-delivered-and-departing-shipyard
---